Welcome
Too busy to come in for an appointment?  We can do your taxes remotely! We use secure services such as SecureFile Pro, ShareFile, and E-Signature to securely prepare and e-file your taxes.  Call us to get started!  989-665-1044 or email topofthehillservices@comcast.net for more information.
NEW SERVICE
Top of the Hill Services is excited to offer Credit Repair! Call today for your free consultation and begin
the road to a higher credit score!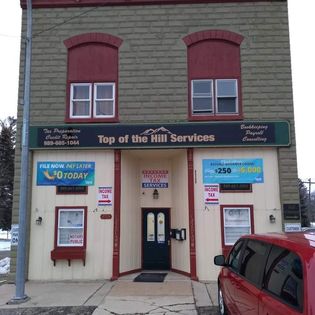 Top of the Hill Services began when Matt and Missie Eavy bought the historic Hardware Store Building at the top of the hill in Gagetown-right in the center of the 5 corners.  They knew exactly what they were going to do with this beautiful building—start a business that would be an asset to local people, businesses, and farms. Both Missie and Matt have obtained the prestigious MBA (Masters Degree in Business Administration) and obtained credentials to accurately file tax returns. Both have consistently maintained their knowledge as well as kept up with the ever changing, confusing tax codes by regularly attending classes, seminars and participating in on line learning.  They are both committed to the Thumb area, and are excited to be a part of the growth and success this area is experiencing!
Clients from all over the State have been provided with a high level of service from the office in Gagetown.   Documents may be dropped off in our secure drop box, mailed to: Top of the Hill Services, PO Box 146, Gagetown MI 48735 or, by stopping in during our open hours, enjoying a cup of coffee and a visit with us and Tax Dog (Gallahad).  For our busy or remote clients, our website offers a secure upload feature for documents, or documents may be sent via email using our secure email.